Description
Citrine takes its name from the French word for lemon, in reference to its colour. It is a variety of quartz, frequently found in nature in the same deposits as amethyst. Its colour is due to the presence of iron.
Ametrine, on the other hand, is a combination of amethyst and Citrine, combining the irresistible violet tones of the former with the cool yellow tones of the latter.
The colour of Citrine covers a whole range of tones, from lemon yellow and golden yellow to deeper tones of mandarin orange and Madeira red (named after the wine).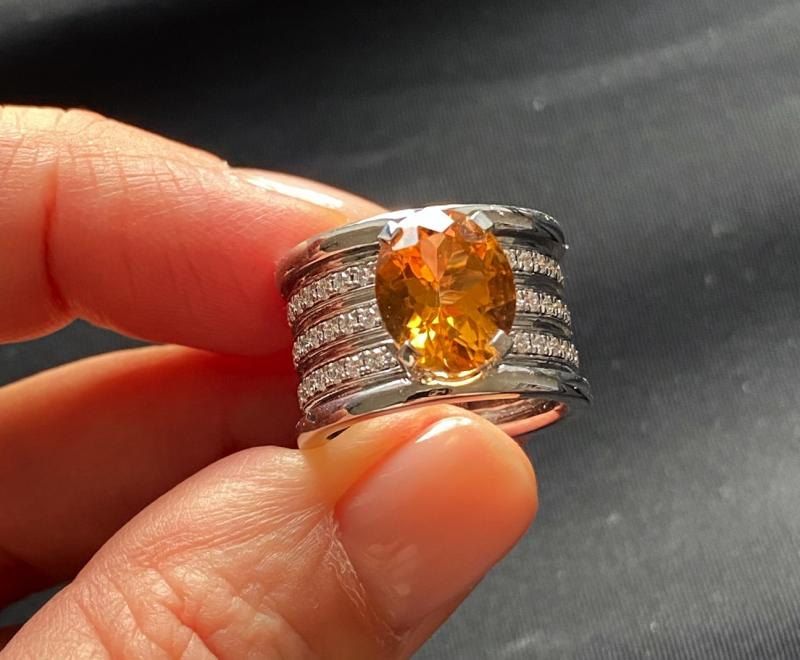 Significance and history
Citrine has been known since around 480 BC and was already popular in Ancient Greece. In the first centuries AD, the Romans frequently used it to make intaglios (stones engraved with a negative relief) and cabochons.
In Antiquity, Citrine was known as a good-luck stone. It was used as a talisman to ward off the evil eye, and as protection against the bites of snakes and other poisonous reptiles. 
Citrine was very popular in the 19th and 20th centuries. Used by art nouveau artists such as René Lalique, it only became the birthstone of November much later.
Where can I find it? Origin
Citrine is found mainly in Brazil, Madagascar, Mozambique and Uruguay; multicoloured Citrine and Ametrine in Bolivia. Lemon-yellow Citrine is also found in Zambia and Tanzania.
Hardness & Care
Its hardness of 7 on the Mohs scale makes it ideal for Citrine jewellery. As a quartz, it is also very popular as a rough stone, cabochon or rolled stone.
Some Citrine colours can lighten when exposed to UV light. Avoid exposing Citrine to unnecessarily strong light.
Virtues
This sunny November birthstone has often been associated with happiness and prosperity.
The ideal metal to go with your Citrine
Citrine is a stone with a magical colour, which can give a different look, style and vibration depending on its combination with a metal colour:
White-coloured metals, i.e. platinum or white gold: the best choice for those looking for a more modern look, who want a room where the stone is the centre of attention, since white colours are excellent for emphasising contrast and enhancing the stone.
Yellow gold: for a more classic and glamorous touch, an evening piece, to bring out the vintage style of a beautiful dress or to stand out from the crowd, yellow gold is the perfect choice. It has the gift of bringing out the orange tones of this stone and creating a regal, antique look.